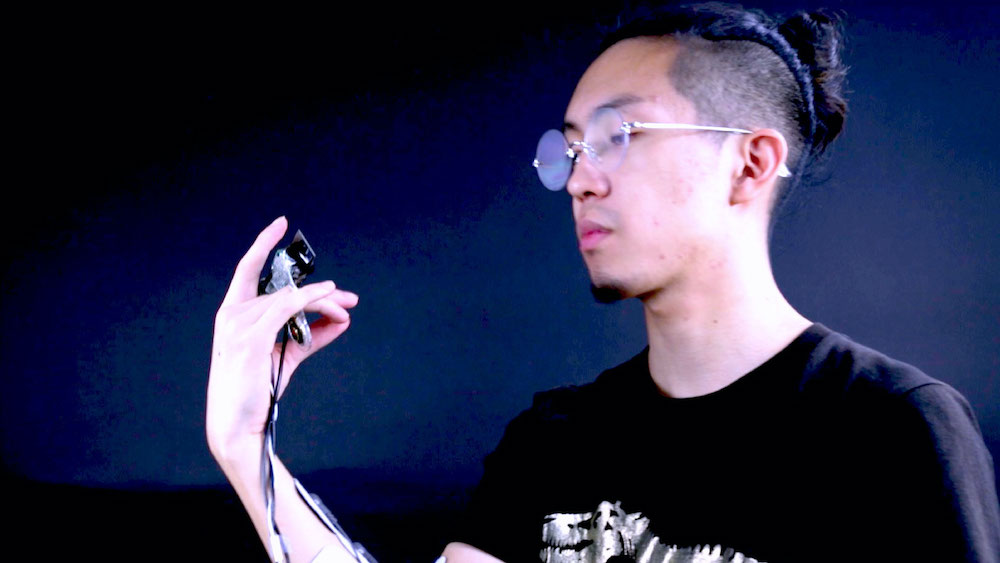 Paralogue
2017-2019 | media installation
electrical muscle stimulation / parasited body / intercommunication of self and other
Paralogueは、自らの腕に他者を寄生させ、自己と他者が重なり合う身体を作り出す作品である。装置を腕に身につけた宿主は、EMS(電気的筋肉刺激)によって本人の意思とは無関係に手腕を動かされ、その腕は、遠隔にいる寄生者があたかもそこに憑依したかのように振る舞い始める。この時、宿主にとってそれまで疑いようもなく自らの身体の一部であった腕は、自我を持った他者として立ち現れる。
Paralogue is a situation that others parasitize in your own arms and that creates a body in which the self and others overlap. The host wearing the device on his arm moves his arm by EMS (electrical muscle stimulation) regardless of his intention, and the arm begins to behave as if a remote parasite had possessed it. At this time, the arm, which was undoubtedly a part of the body of the host, appears as another person with the ego.
遠隔の寄生者の声と頭の動きは、電気刺激により宿主の手指と腕の動きにリアルタイムに変換される。また、HMDを装着した寄生者は、宿主の指先に装着したカメラとスピーカを通して、宿主と対話することができる。このようにして、宿主の身体に寄生者の"存在"を表現する。
Voice and head movements of remote parasites are converted in real-time into host finger and arm movements by electrical stimulation. In addition, the parasite wearing the HMD can interact with the host through the camera and speaker mounted on the host's fingertips. In this way, the "existence" of the parasite is expressed in the host body.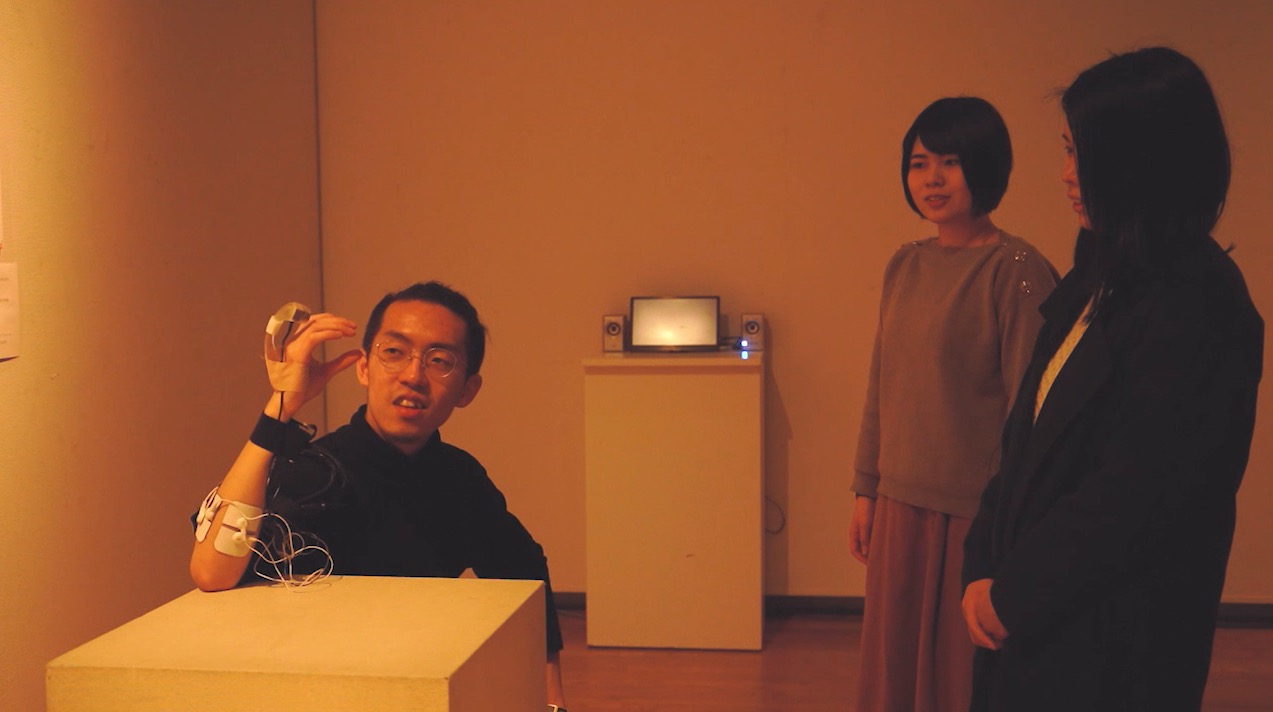 腕に他者を寄生させた身体としての私自身を展示した。
I exhibited myself as a body paratisized by another person on the arm.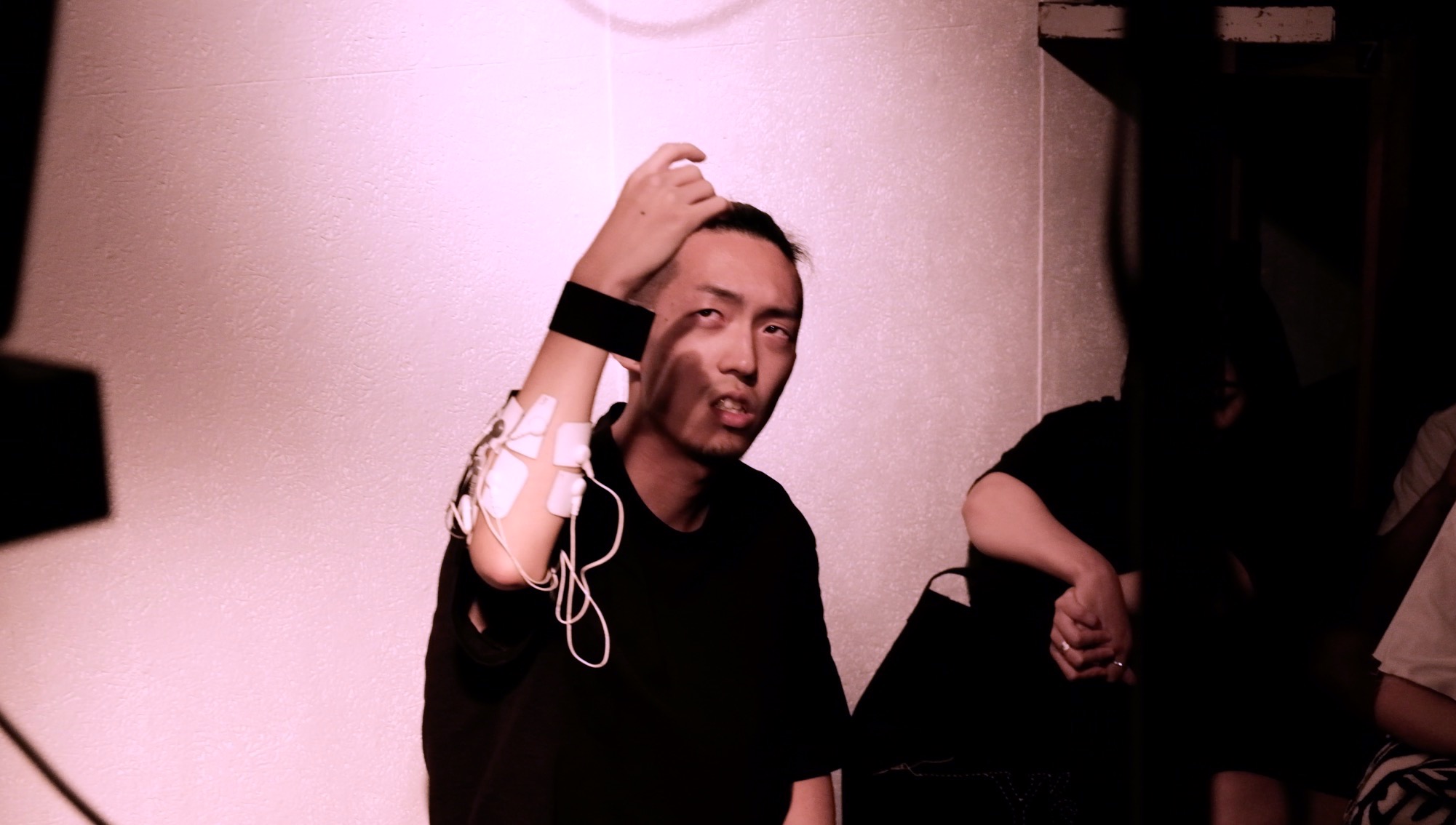 Paralogueデバイスを用いた一人芝居: "A demonstration of Paralogue"を行った。
I performed solo play: "A demonstration of Paralogue", by using Paralogue device.
実践と考察
practical study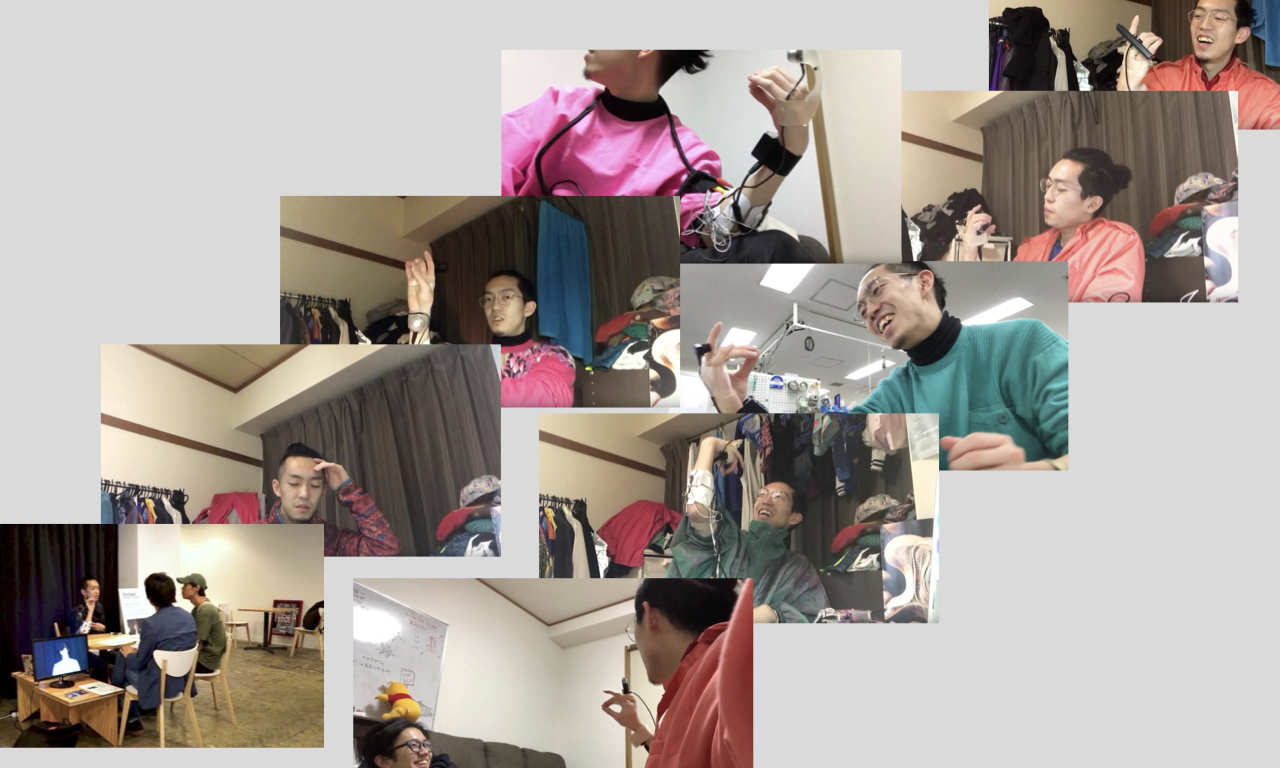 宿主は、筋肉の微弱な動きを寄生者の意思の現れとして感じ取る。それは、肉体の一部において、自己と他者が混在する感覚を及ぼす。これは、他者が身体の内部に侵食していると同時に、一つの身体に2つの意識が存在しているということでもある。このような新しい身体観について考察するために、私は1ヶ月にわたり習慣的にこの装置を実践した。
The host senses the weak movements of the muscles as representation of the intentions of the parasite. It causes the feeling that the self and other are mixed in one part of the body. This means that another person erodes inside the body, and also means that two consciousnesses exist in one body at the same time. In order to consider such a new view of the body, I practiced this device habitually for a month.
反射と動作
reflex and motion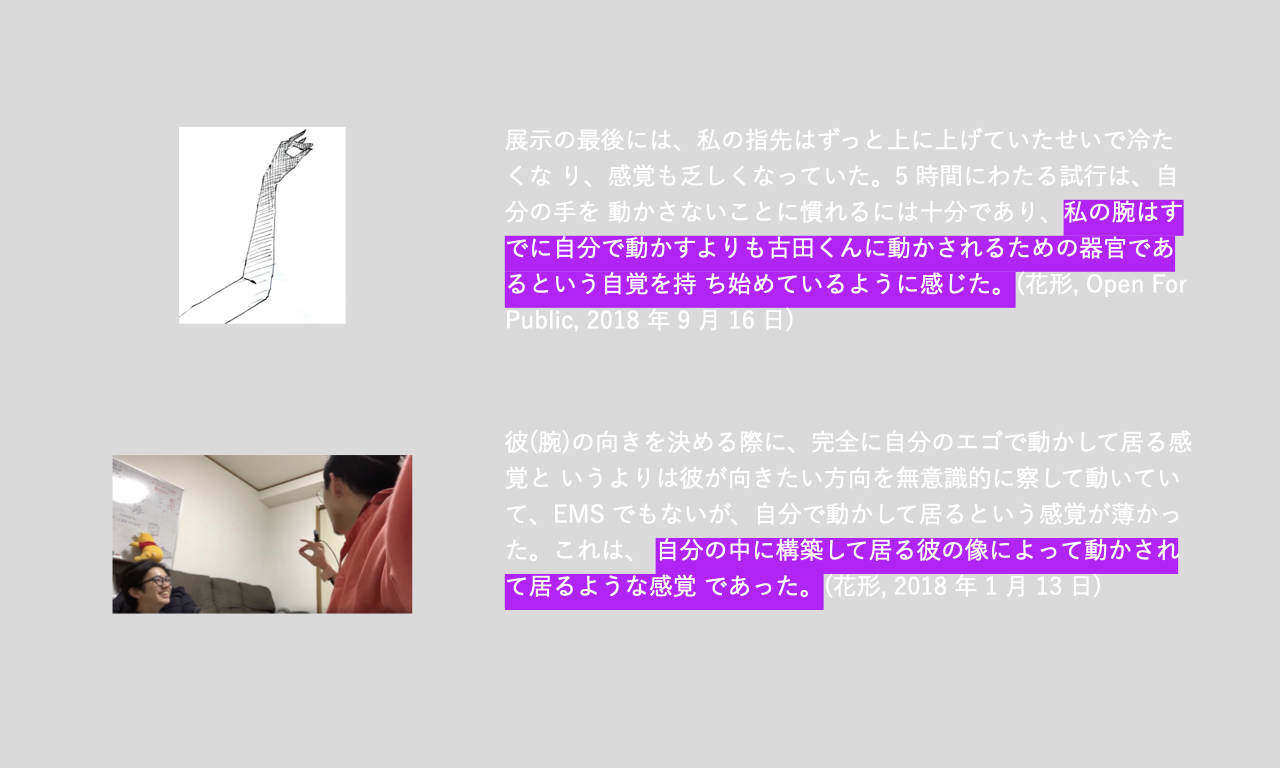 宿主にとって、基本的には、身体を動かすことは、意識的な動作であり、動かされることは、 EMSによる反射的な動作である。しかし、ここで起こる「無意識的な配慮」というべき行為によって、相手の動きを無意識的に察し合いながら相手のための動作と自らの動作を混在させながら動かし合うという構図が見えてくる。
For the host, basically moving the body is conscious, and being moved by the EMS is reflexive. However, the behavior that should be called "unconscious consideration" that occurs here makes the situation that the host unconsciously perceive the movements of the parasite and host move his/her body while mixing the actions for his/her own and for the parasite.
表象の共有
representation sharing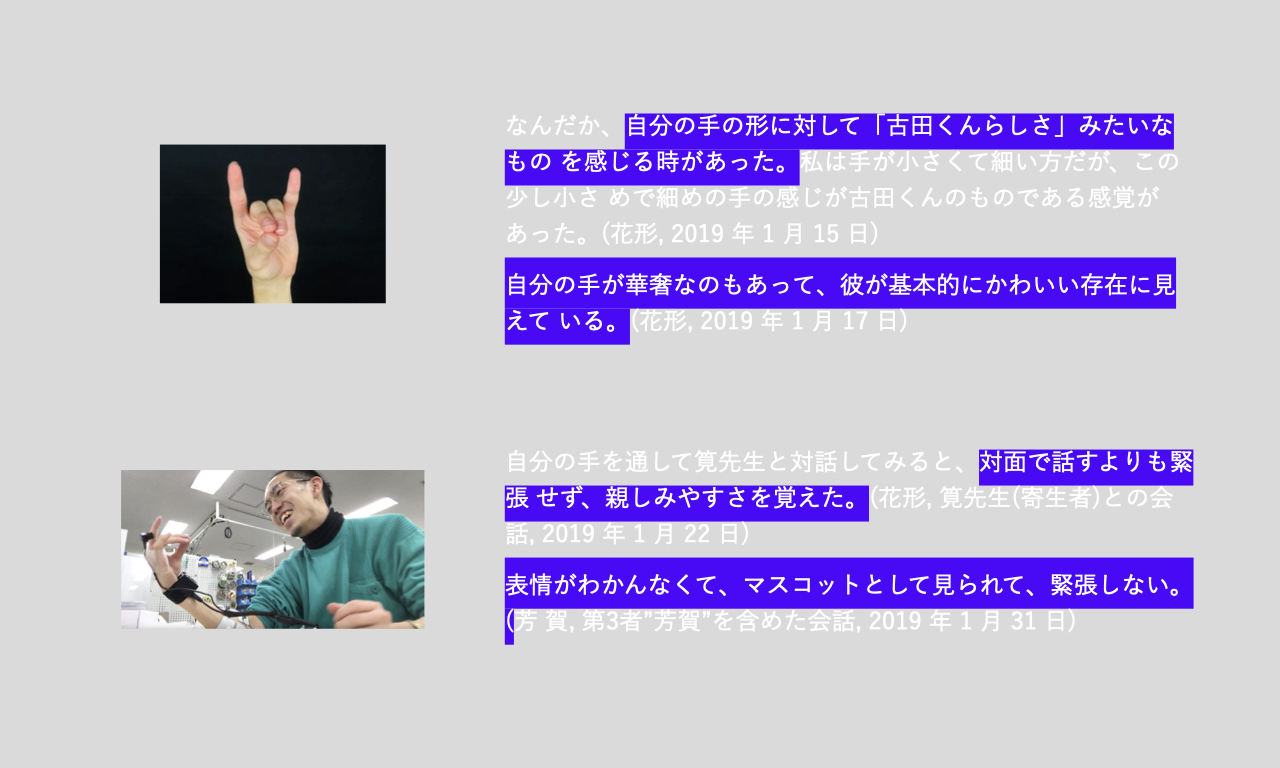 Paralogue は手を寄生者の顔に見立てる。このことによって、寄生者が、宿主の社会的な印象を借りて存在している感覚があるとを言っており、身体的な印象や表象、社会的な存在感といったものが宿主と混じり合った存在としてそこにいると言える。
While Paralogue, the host hand is as if the face of a parasite. This means that the parasite has a sense of existence, borrowing from the host's social impression. The parasite exists there while his/her physical impression, representation, and social presence are mixed with the host.
強い共感
strong empathy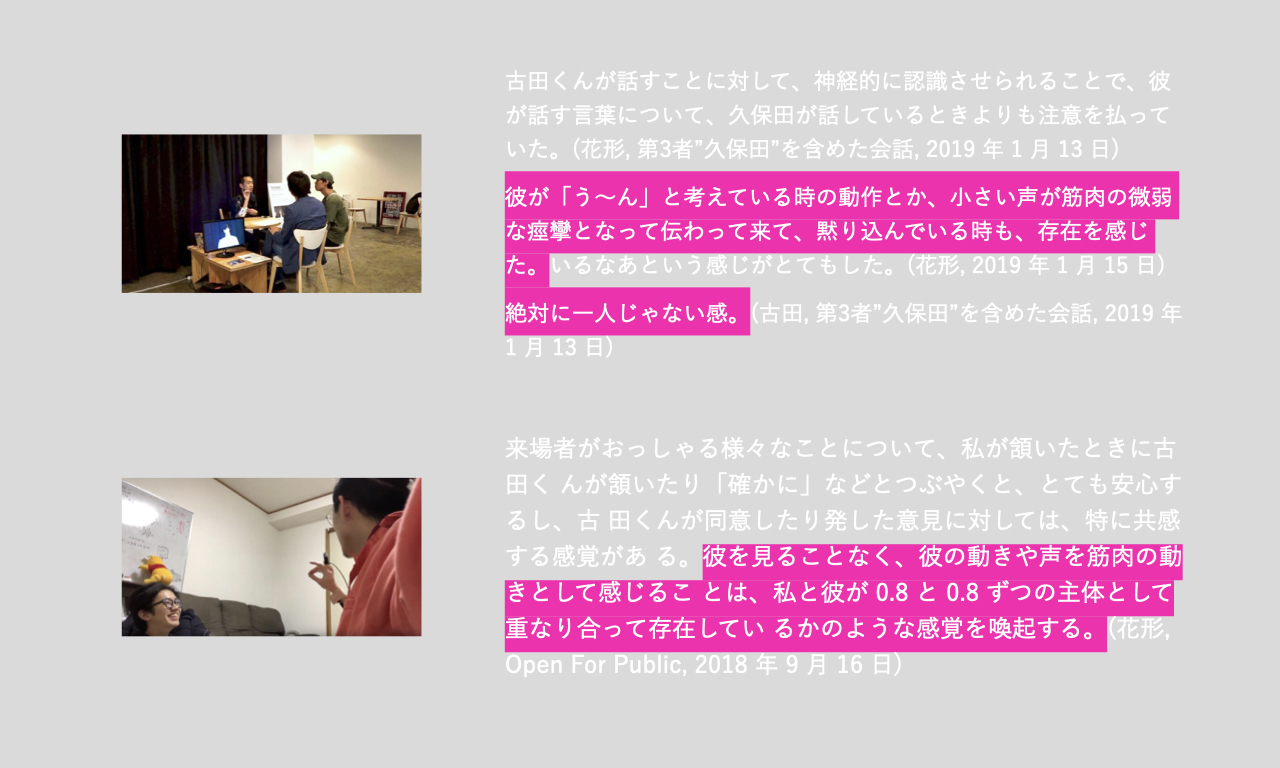 彼を見ることなく、彼の動きや声を筋肉の動きとして感じることは、私と寄生者が1つの主体を分け合うようにして重なり合っているかのような感覚を覚える。寄生者の身体動作が神経的に伝わる、特に、小さな声や動作が伝わることは互いに強い共感を産んだ。
Sensing his movements and voices as muscle reflex without looking at him makes the host feel like the parasite and he are overlapping and sharing one subject. The body movements, especially the small voices and movements of the parasite were transmitted in a neurological manner, produced strong sympathy for the each other.
Credit
Shin Hanagata - concept, engineering, performing Katsumi Furuta - engineering support Yasuaki Kakehi - supervision
Awards
22nd Japan Media Art Festival, Art Division, Jury Selection (2019) Asia Digital Art Award 2018, Interactive Art Division(General), Grand Prize + Minister of General Affairs Award (2018)
Shows
Asia Digital Art Award Winners Exhibition, Fukuoka Asian Museum, Fukuoka (2019) Social Innovation Week; Open For Public, EDGEof, Shibuya (2018) SFCデザイン系学生有志展 X-port, YCC, Yokohama (2018) ACM Augmented Human 2018 Poster Presentation, Seoul National University, Seoul (2018) Open Research Forum 2017, Tokyo Mid Town, Roppongi (2017)
Publication
"電気的筋肉刺激により腕に他者を寄生させる装置の制作と 身体を共有する主体間の関係性の考察", Bachelor Thesis, Keio University (2019) S. Hanagata and Y. Kakehi, 'Paralogue: A Remote Conversation System Using a Hand Avatar Which Postures Are Controlled with Electrical Muscle Stimulation', in Proceedings of the 9th Augmented Human International Conference, New York, NY, USA, 2018, pp. 35:1–35:3, doi: 10.1145/3174910.3174951. (2018)
Media
"寄生獣っぽい。腕に他人が乗り移る身体感覚をもたらすメディアアート『Paralogue』", bouncy news (2019) "深夜に発見!新shock感~一度おためしください~(2018年5月12日放送回)", TV Tokyo (2018)